Give your child the competence, confidence and skills of aquatic safety with Infant Swimming Resource's Self-Rescue® program. The safest provider of survival swimming lessons for children 6 months to 6 years of age.
Next sessions are
July 10 – August 25 
or NEW and RETURNING students.
Contact Michelle at 904.333.0494
to register.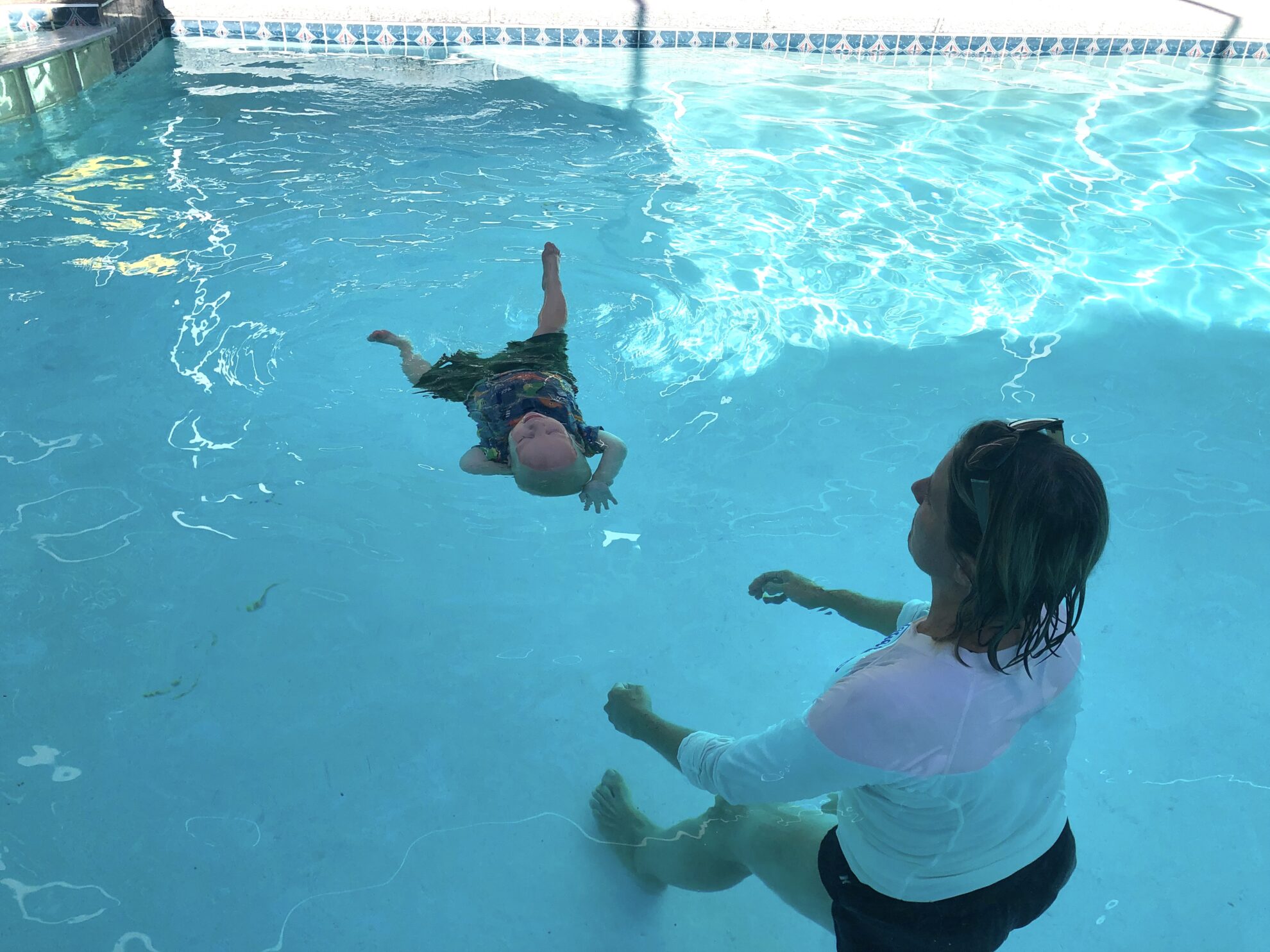 Learn more about Michelle and ISR here.
For more information and to schedule lessons at Holistic Wellness Center,
please contact Michelle:
Phone: 904-333-0494
Email: [email protected]
Michelle Smith
Certified Infant Swim Resource Instructor
Hi! I'm Michelle Smith.  I'm married to my amazing husband, Brian, and have two wonderful children, Eric and Emily.  I have a long history with ISR, starting with my youngest sister, Carrie.  Carrie completed ISR lessons when she was two years old.  It saved her life when she fell into our family pool and was able to get herself out safely.  Brian and I decided that ISR was important for both of our children when they were babies.  Both children successfully completed their initial sessions and subsequent refresher lessons.  Now that they are older, they are excellent and safe swimmers.  When our son was about 8 years old, a friend of ours saw him swimming and asked him, "How did you get to be such a great swimmer?"  Eric replied, "I don't know, I've just always known how to swim." 
For years, I thought about becoming an ISR instructor "someday."  When we moved into a house with a pool in 2009, "someday" had arrived!  I LOVE being an ISR Instructor.  I get very excited for each one of my little swimmers as they learn life-saving skills.  I especially love seeing my "graduates" as they swim and float at the community pool.  I look forward to working with you and your baby to make sure you have a safe swimmer, too!
Michelle Waggoner
Certified Infant Swim Resource Instructor
Hi! I'm Michelle Waggoner. Married to an exceptional husband, Jacob and mother to three amazing children Jackson, Everett, and Olivia. Our family loves to be outdoors camping, hiking, mountain biking, trips to the beach, and splashing in the pool.
I first learned about ISR before I had kids through a CrossFit Journal article in 2011. Fast forward to 2016, I enrolled my eldest son in his first session of ISR lesson as an infant. It was amazing to see him learn lifesaving skills. From there, my husband and I were advocates for ISR. All 3 of my children have taken ISR lessons and refresher lessons. My youngest still continues to learn and practices her swim-float-swim skills.  My passion for teaching and training in many different capacities has been a perfect pairing for a career with ISR. It is truly amazing to see infants and children learn, initiate skills, and watch their self-confidence bloom. I look forward to equipping your child with survival skills! 
Info about upcoming session: Start date is Monday August 29th, 2022.
Please contact Michelle to schedule.